2013.08.27 Tuesday
Our Bon holidays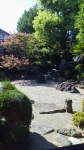 On Bon holidays
 Our son's family came back home. 
 Because it's a long time since we saw them last,
 We were afraid that granddaugter didn't adjust herself to us. 
 But she enjoyed with us playing in the plastic pool,tricycle and house outsider.
 I was very happy,
 And very busy.
 I could't have enjoyable meal.
 After Bon holidays,
 Son's family went back.
 And we recovered lonely but quiet useal life.
 We had a confortable time at breakfast looking at garden again.
 I just found that Indian lilac in this year looked poorly than last summer.