2014.01.28 Tuesday
Calm in the winter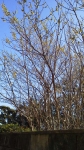 Yesterday
It was very fine.
When I was washing ,
I raised my eyes towad the sky through the window.
The blue sky , without a speck of cloud , was shining over Roubai-branches.
What a beautiful scene !
Roubai has very sweet smell.
I stood on tiptoe toward the window , and I took a deep breath.
But I did't feel sweet smell.
I had a stuffy nose.
If my nose hadn't been damaged,
I was able to enjoy several times calm in the winter with sweet smell.
I was very sorry.