2014.03.03 Monday
My favorite stool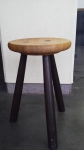 I got a stool.
When I went shopping at departmentstore,
I met a stool.
At there,
An exhibition and spot sale of wood-work was held.
I took a fancy to the stool at first sight.
It was bicolor.
And, legs were cute like lamb's leg.
Because I stopped and looked intently,the creator of the stool talked to me.
" This is WINTER STOOL .
Seat is made of TABUNOKI.
TABUNOKI contains so much air between tissues, we feel warm under buttock. "
I was very much impressed by his thought,
and I was interested that wood for seat was TABUNOKI,too.
Because in my garden we have an old TABUNOKI.
Althoug TABUNOKI is common in Japan,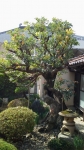 It is very precious tree for our family.
It is symbol tree of our garden.
I had more and more fallen in love with that stool.
At last, we decided to get that stool.
And now, TABUNOKI stool has became our favorite one.